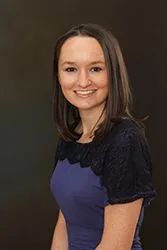 Dr. Chelsea Marcuard graduated from the University of Maryland Dental School in 2012. Prior to that, she attended the University of North Carolina at Chapel Hill, where she earned a BS in Biology and graduated with distinction. Dr. Marcuard went on to complete two years of post-graduate education after dental school.
Her first post-graduate year was at the General Practice Residency here at East Carolina University where she had extensive training in handling medical and dental emergencies. During the second year, Dr. Marcuard was granted a position as an oral pathology fellow, dividing her time between the University of Maryland and Perry Point Veterans Affairs Hospital and learning more about diagnosing oral cancer, as well as other oral pathologies.
Dr. Marcuard has participated in many service outreach programs including the Greenville Homeless Shelter dental bus and the Philippines Medical Missions of Mercy. She is the founder of a program which brings dental hygiene instruction to the Orphanage Outreach in the Dominican Republic, for which she received an Outstanding Community Service award from UNC-Chapel Hill.
She was a member of Psi Omega during her four years of dental school and was invited to join Gamma Pi Delta for her excellent performance in prosthetic dentistry. She is currently a member of the American Dental Association and the North Carolina Dental Society.
Dr. Marcuard, daughter of Dr. Karen Shaw and Dr. Stefan Marcuard, is a native of Greenville and a Rose High School graduate. She returned to the area in 2014 to join her mother's dental practice and officially took over the practice in January 2017. She and her husband have two sons and two dogs. Outside the office, she enjoys hiking, skiing, traveling, building puzzles and spending time with her family.